Augmented Reality (AR) Experience Concept Video
Overview
I used observational research to inform and design the concept for an urban history
AR experience
for the Historical Society and Chamber of Commerce in Apex, NC. The app provides Apex residents and tourists an engaging, self-guided experience to learn, explore, and interact with this historic railroad town.
Discover and build empathy
Direct observations of residents
Through direct observations and interviews with residents of Apex, I was able to gain an understanding of how families interact with and experience their town. The data suggested that many of the families in the neighborhood where new to Apex and first time homeowners with young children. In addition, many families were struggling to limit screen time and get their kids to play outdoors.
Creating the parent persona
I built the main persona,
The Parent
, as a
popup book
to reinforce an empathy that reflects the adult homeowners with new families looking for activities in Apex, a rapidly changing city with a historic downtown. I validated my persona using
quantitative data
from the city of Apex.
Direct observations of the historic downtown and analysis
During observations of Historical Downtown Apex, I gathered photographs, videos, audio recordings, timelapses, and notes, which allowed me to submerge myself in a deep appreciation for the old town and its appeal to both residents and visitors.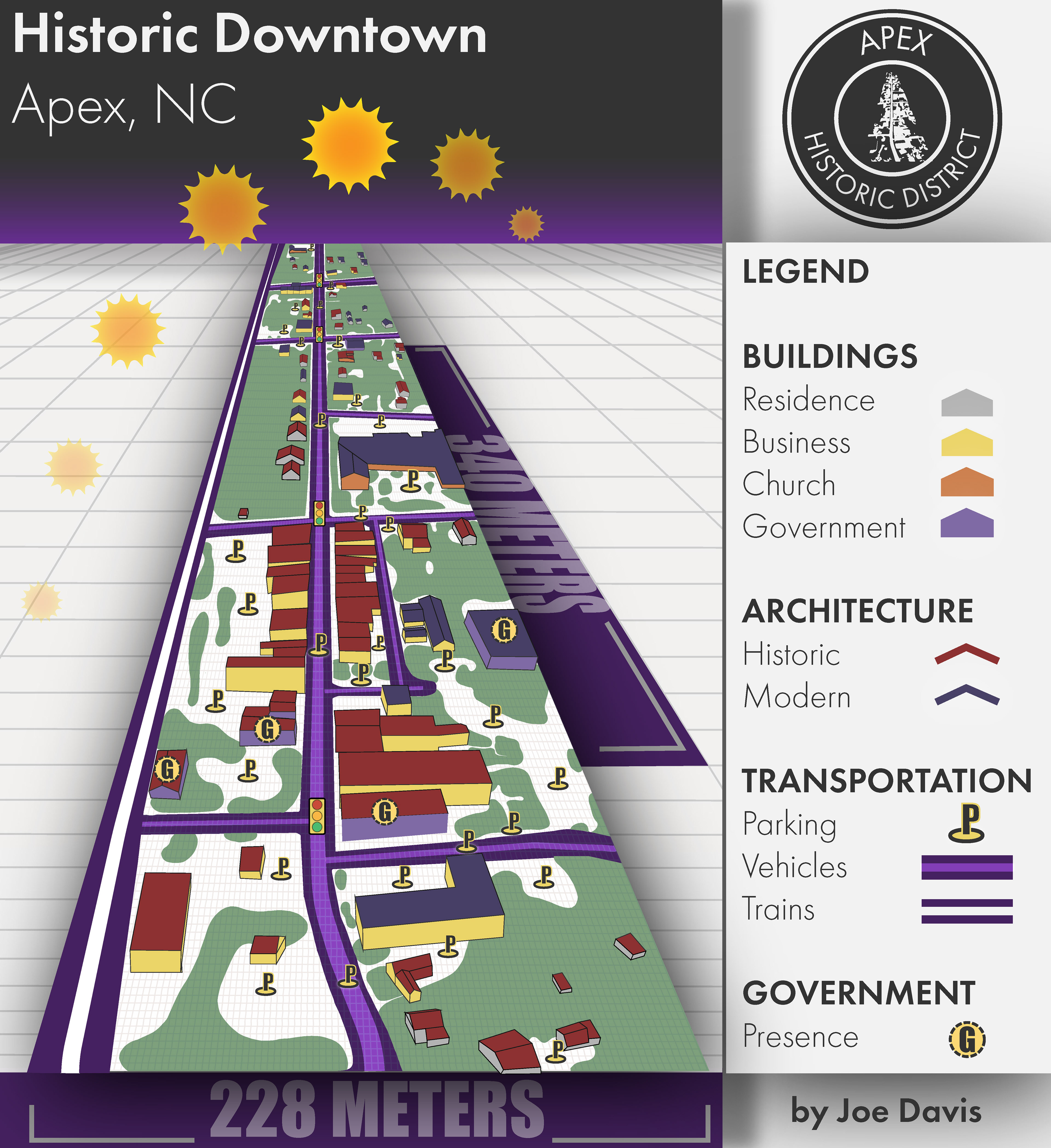 Define the problem
Mapping research to synthesize insights
I synthesized my field research into a
model of the historic downtown
, representing the locations of historic sites, parking, the railroad, vehicle movements, businesses, and the presence of government infrastructure. I completed the design of the model with a color scheme that visually maps the
forces
that influence interaction in the downtown. The final model helped facilitate future ideation, providing a concrete representation of the field site for reference.
Collaboration with a remote UX designer
I partnered with Graham, a UX designer from California with experience in augmented reality applications. Graham worked remotely during the project, and to bring him on board and up to speed, I created a
presentation on Apex and my field research
. Together, we created a revised problem statement for the project as we moved into ideation.
Create an urban intervention that engages the community in family friendly outdoor activities that they can use at any time in the historic Apex to enrich their experience of the city.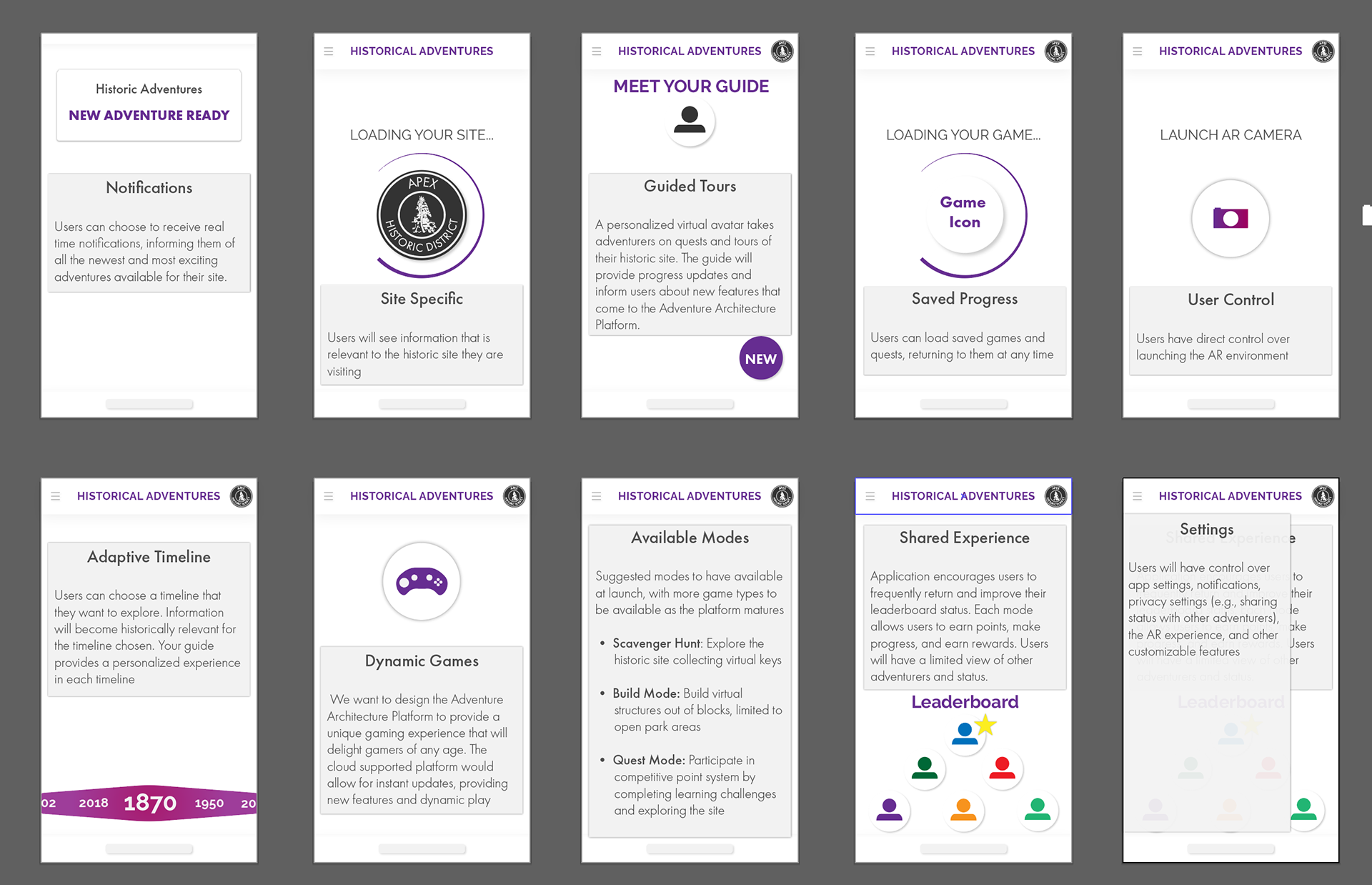 Develop the right solution
Ideation led to augmented reality
Graham and I conducted several ideation sessions as we converged on creating an AR experience. We were excited about two ideas in particular:1. an AR self-guided tour app that allowed users to transport between different timelines in history; and 2. a second experience that facilitated the creation of crowdsourced and customizable digital graffiti with which users could tag historic buildings.
Feedback refined our focus on exploration and tours
We
pitched the two AR ideas
to HCI professionals. While customized digital guides and AR tours received overwhelmingly positive feedback, concern was raised over how to effectively manage community graffiti and digital art in a family friendly experience. 
The project's focus shifted towards AR tours and games; however, further research into community art moderation would be necessary if we were to reconsider crowdsourced graffiti.
Key Learning
- During this phase of the project, conducting concept testing with real users in Apex (in addition to the HCI experts) may have provided additional and unique insights.
During iteration, we moved forward with the idea of AR tours, exploring
two visions for the project
through a series of digital mockups. We converged on an AR application that allows users to experience the old town through family friendly games and tours along a modifiable timeline.
Exploring alternative scenarios
Graham and I continued ideation through storyboards and scenarios. We explored
using physical kiosks
to draw users into the experience, but ultimately scrapped this idea to maintain the integrity of the historic site and focus on a non-intrusive mobile intervention.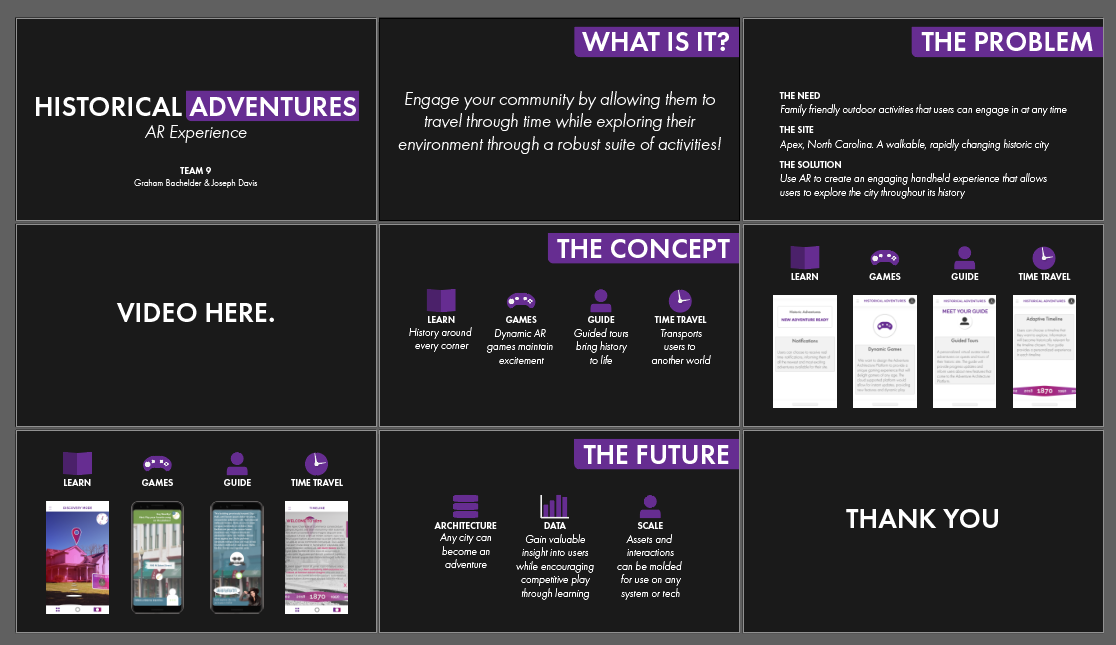 Deliver the vision
Building the concept video
We iterated on our design mockups to showcase how users could interact with the historic town through exploration, games, and learning experiences.
Early on in the project, we fell in love with the compelling nature of AR footage and created a plan to build our own concept video to share our vision. I storyboarded the concept, and went to the field site to capture new stabilized video.
Although I had no previous experience with creating motion graphics in After Effects, I acquired the skills to design the digital art and create the AR concept footage; Graham and I then storyboarded the presentation, collaborating through Adobe CC to bring together the final digital assets, concept footage, design mockups, and written copy.
Final AR Experience Video Concept
Next Steps
Our next steps for the project are to present our concept video to the Apex Chamber of Commerce for their consideration.
Interested in working together? 
Contact me today!