FedEx High-Fidelity Prototype
I planned and conducted evaluative and generative research on FedEx.com to improve usability and inform the design of a new user interaction for rerouting packages, thus creating the potential to reduce lost revenue from customer claims and drive new revenue to FedEx's retail locations.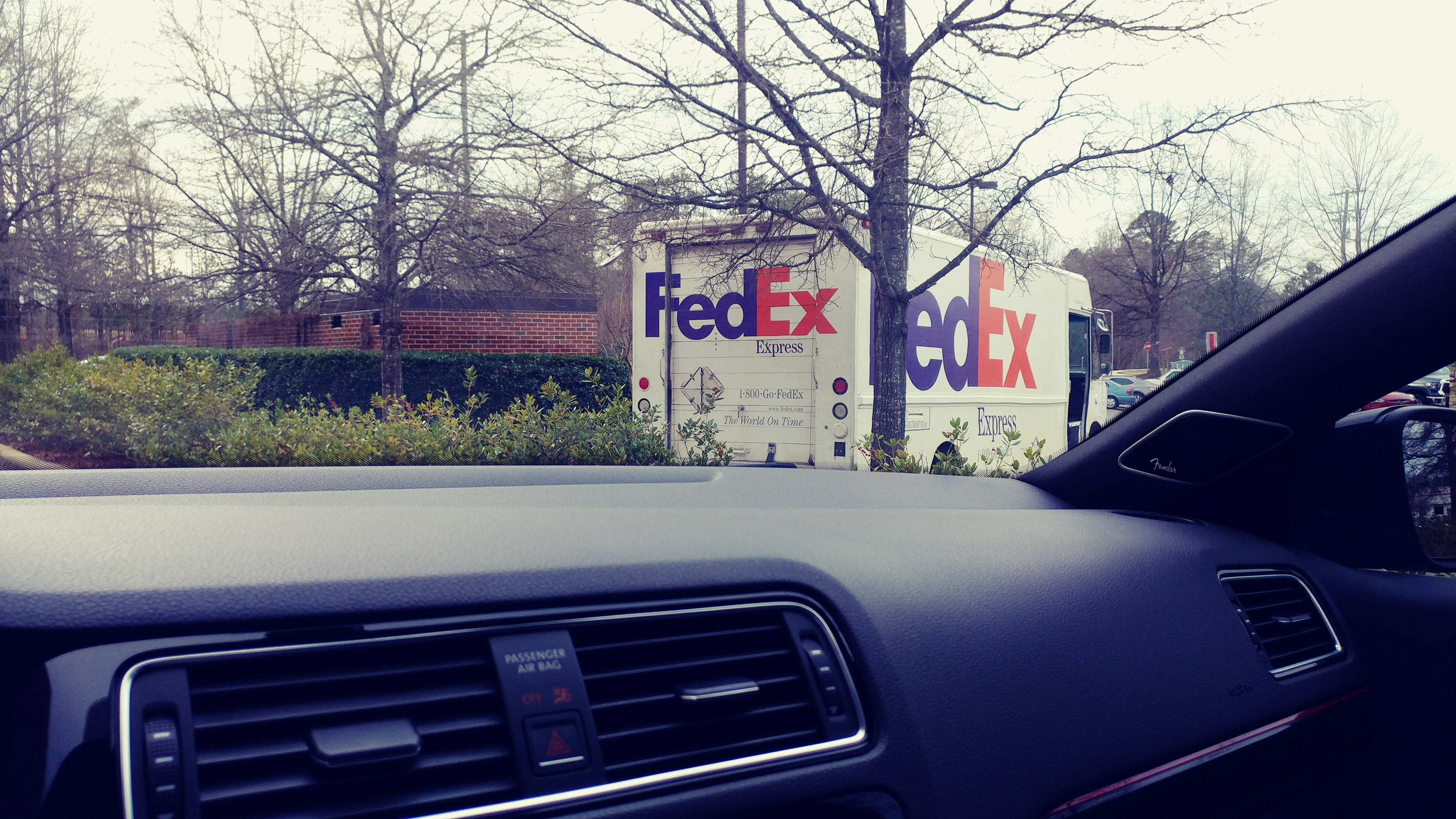 Discover and build empathy
Observations suggest a high cognitive burden
Through direct observations and contextual inquiry, I discovered that new users struggled to identify the next step on the login page of the FedEx website when attempting to create a new shipping label as a guest user. 
Rerouting packages lacks feedback
Interviews with users who took advantage of FedEx's rerouting service suggested that the process was unintuitive and lacked sufficient feedback. Users were often left feeling that they didn't know where they were in the process. 
I led a team of four HCI researchers in conducting an expert heuristic evaluation on the guest shipment user flow to understand why the login page caused the high cognitive burden suggested by my observations. My team discovered that the page featured jargon-heavy language, numerous competing dialogues, and demonstrated inconsistent design elements from the rest of the site.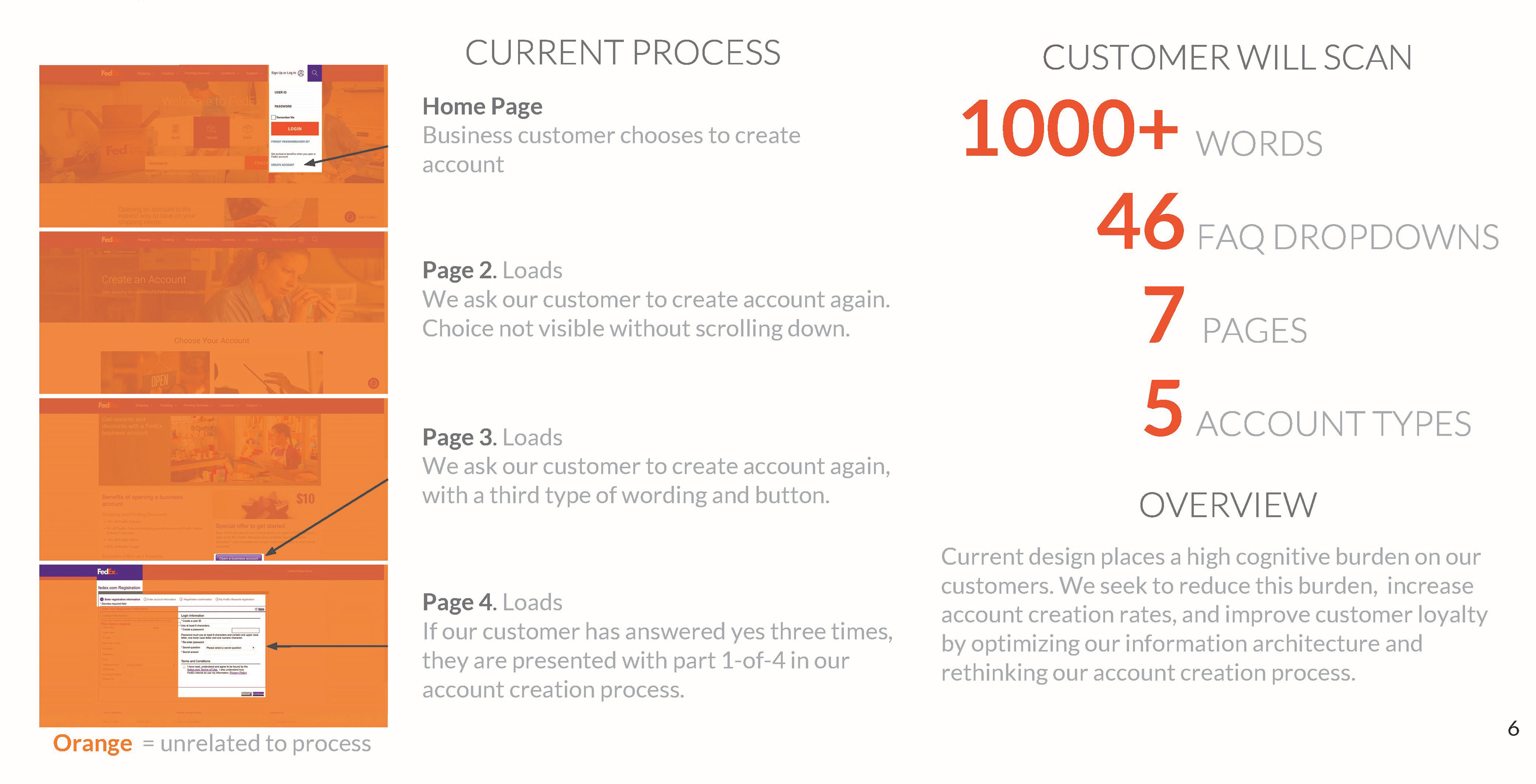 Defining the problem
User testing to generate solutions
I planned and facilitated a usability study with a focus on generating new data for resolving the issues identified from the heuristic evaluation related to account login. This study also aimed to reveal opportunities to increase account creation conversion rates, improve long-term connection with users of FedEx.com, and facilitate growth in the business-to-business and the e-commerce market through an improved account creation experience.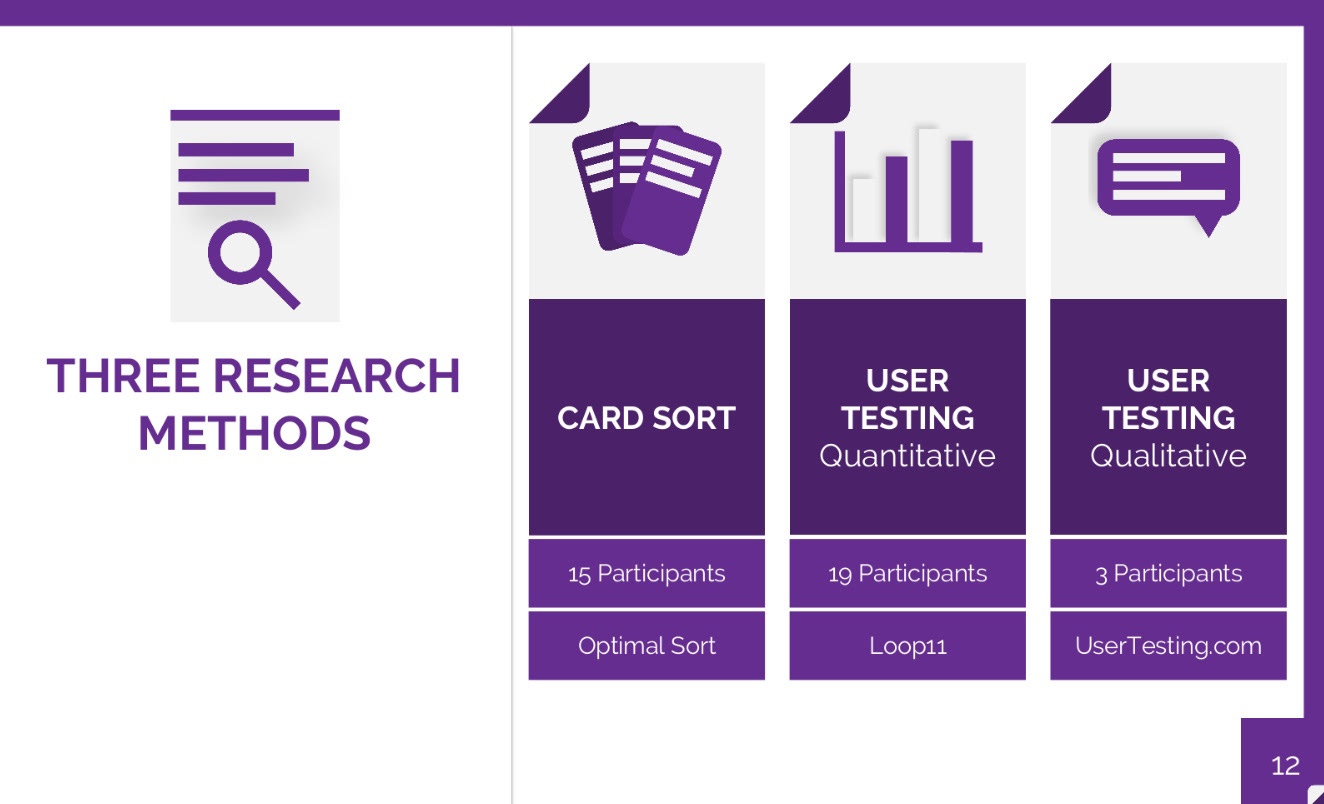 Overview of usability study
Login page is jargon-heavy and complex
Quantitative user testing revealed that more than half of participants failed to start a new shipment as a guest user after encountering the account login page, confirming my analysis during discovery. 
Qualitative data suggested that participants were not confident that they had landed on the right page and could not easily identify the next step.
High cognitive burden to create an account
Data from an unmoderated closed card sort suggested that the account creation page featured unnecessary and loosely relevant information, with participants unanimously sorting two links into alternate categories. 
Additionally, while user testing revealed that most participants could successfully navigate to the correct page to open an account, only four of the nineteen participants rated that task "very easy" on a likert scale. 
Think aloud sessions further suggested that users found the process "cumbersome," and earlier analysis showed that opening an account required navigating through up to seven pages. On average, FedEx.com users dropped off after less than three.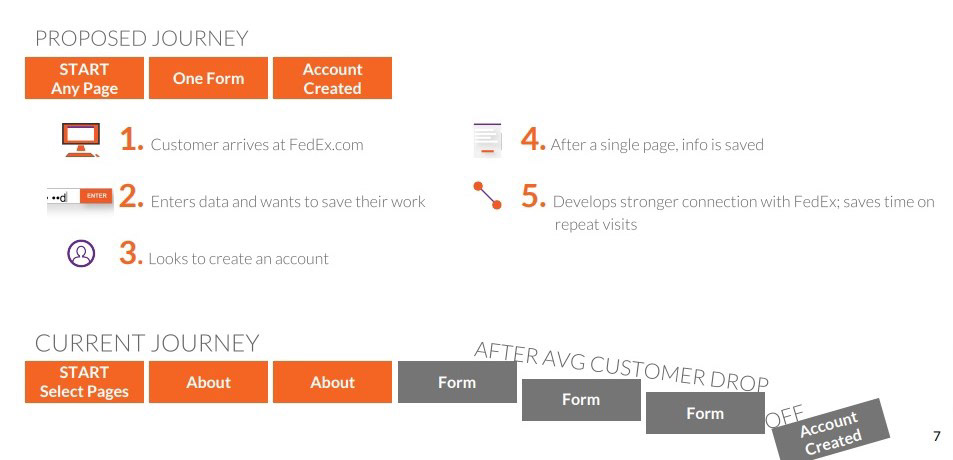 Problem, solution, and benefits
Concurrent to the usability study, I researched a new design for rerouting packages. Through ideation and sketching, I explored the potential benefits of encouraging customers to reroute packages, both as part of the larger customer experience, and as a business strategy for FedEx.
Benefits of changing behaviors
Increasing reroutes to retail stores can potentially reduce customer claims due to lost or stolen packages. According to a 2017 Comcast survey, 30% of Americans have experienced a lost package due to theft from the doorstep.
Developing the right solution
Ideation incorporates user research
During ideation, I sketched out new designs that nudge users to reroute packages to FedEx's retail stores  using clear call to actions and simplified user flows. These designs focused on reducing friction and improving feedback.
Ideation through sketching
I analyzed Target, Ebay, Turbo Tax, UPS, and Amazon websites to identify potential opportunities for innovative disruptions; I identified that providing users with a default home store based on location makes it both easier for them to navigate to a nearby location and to reroute packages in fewer clicks.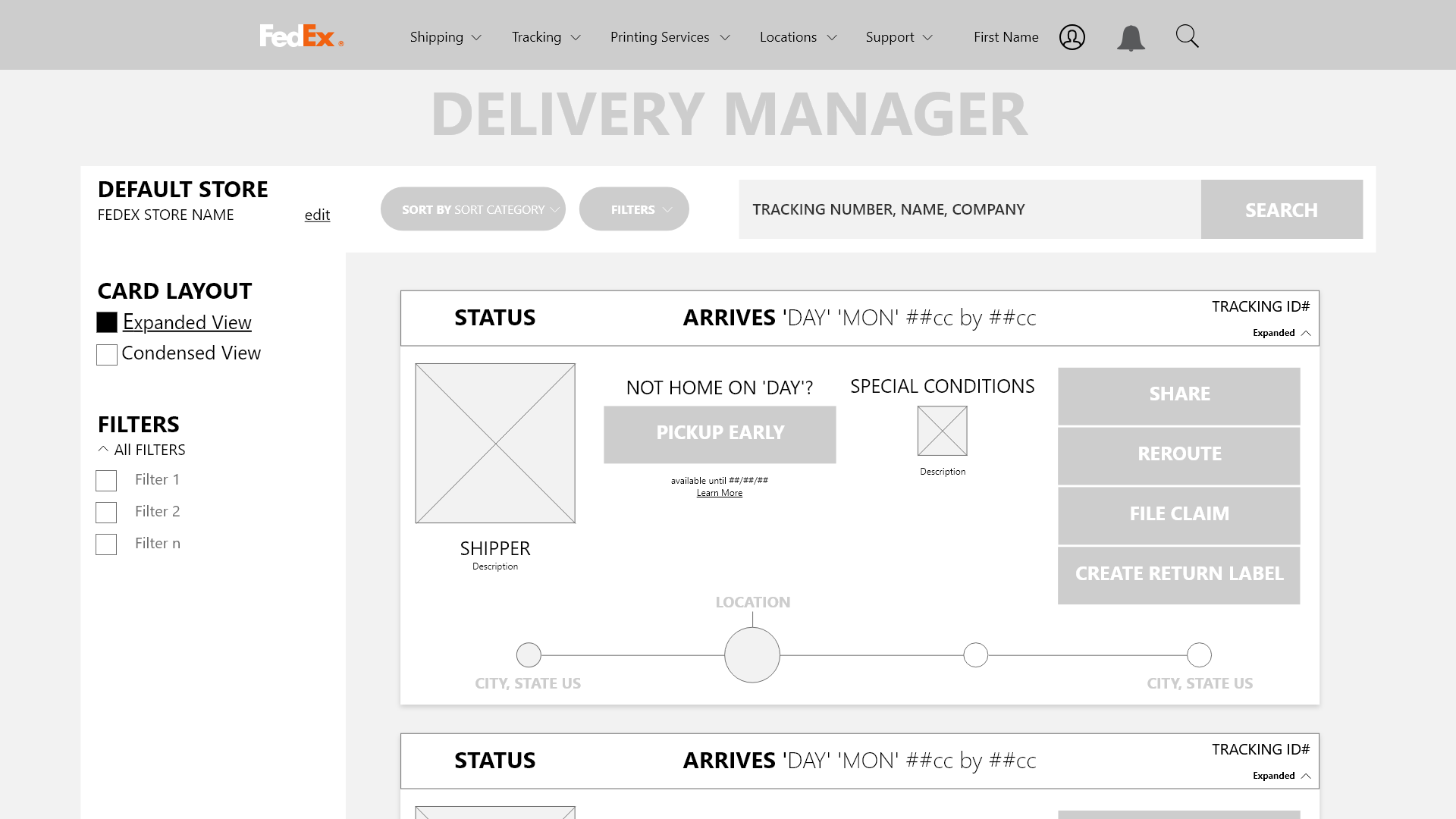 Delivering the prototype
Creating a clear mental model
During ideation, I converged on a new visual design and interaction that maps directly how packages are rerouted between a user's home and a nearby FedEx store.
I iterated on the wireframes and designed the final prototype in Adobe XD. This prototype demonstrates how the new user flow makes it easier for customers to save their tracked item to an account by simplifying the login experience and producing a clear call to action. 
Additionally, the prototype showcases how the new reroute interactions visually encourage users to send packages to nearby FedEx stores for pickup, rewarding them with early delivery notifications.
Next steps
Early feedback on the prototype suggests that improvements to the typography and visual design would increase the accessibility and usability of the overall design, specifically in cases where small fonts were used.
My next steps for the project are to conduct user testing on the prototype, grounding the next round of iteration in actionable user data.
Interested in working together?

Contact me today!